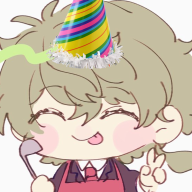 miss sara it seems i'm stuck on marioboards.com
Wiki Administrator
Chat Administrator
Awards Committee
Former 'Shroom Staff
Ralphfan brought up the idea of organizing an event like this, and I suggested a charity:
Child's Play
, to be specific. After getting the approval of Porplemontage and several other committee members, I finally set up the event on the Anniversary page, and Gamefreak75 added a link to the announcements on the Main Page.
We have only received one contribution so far; more information (as well as the ChipIn widget we are using to track our progress) can be found
here
. All donations are, as mentioned on the page, greatly appreciated, and will be going to a good cause.