Seeing the recent spinoffs like Party 9 and Sochi Olympics, I start wondering if Nintendo want to keep their games sold out.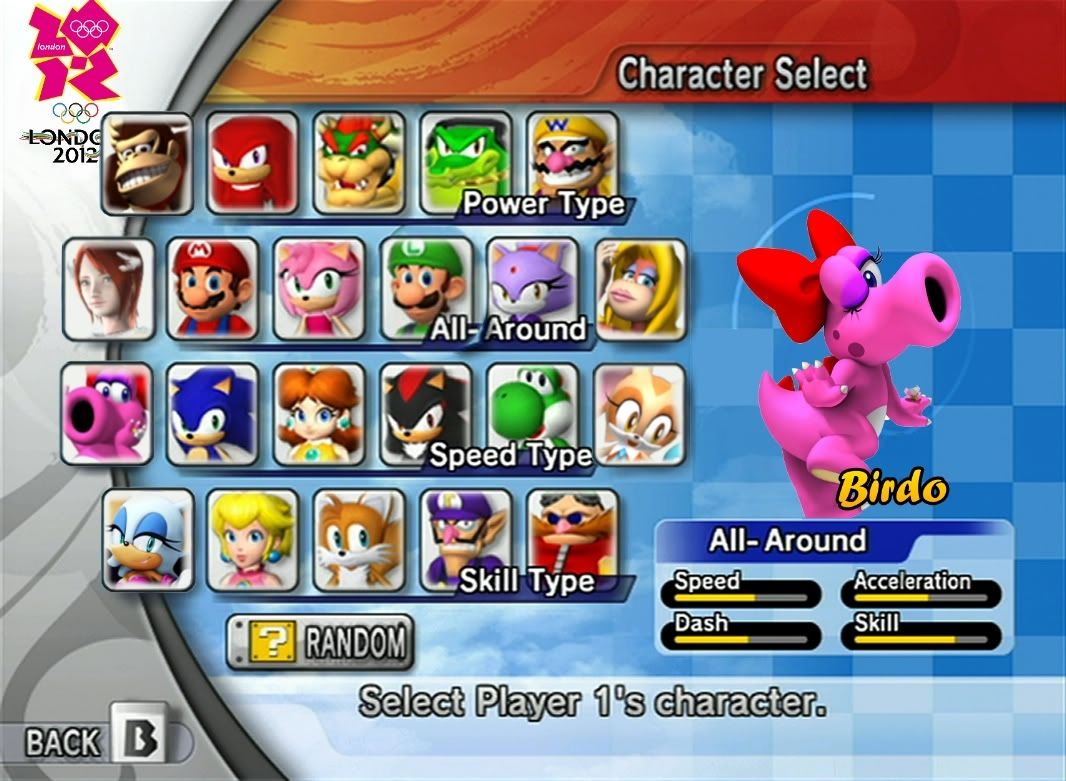 The recent spinoffs often make us feel they're monotonous in rosters. Is it? Let's take a look instead of speaking rumor: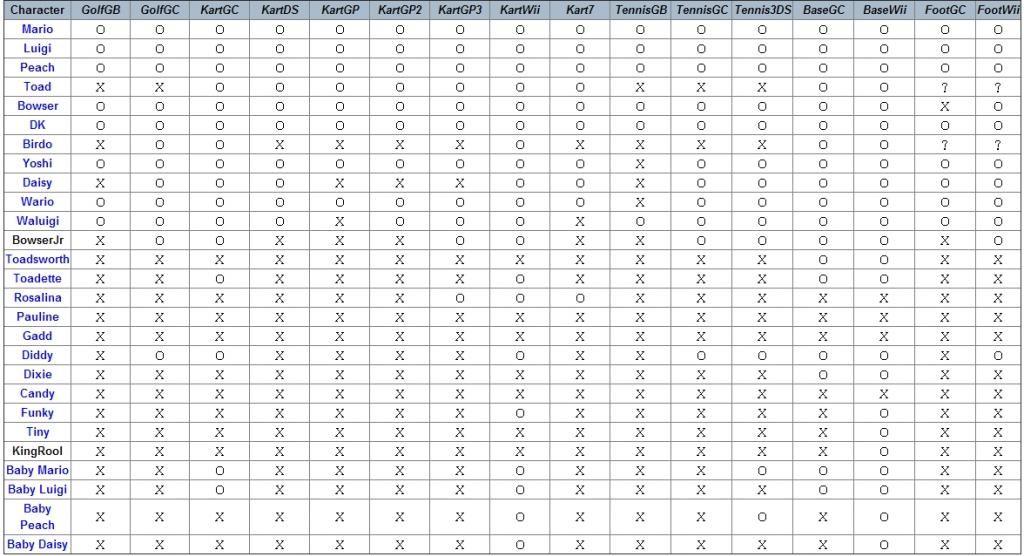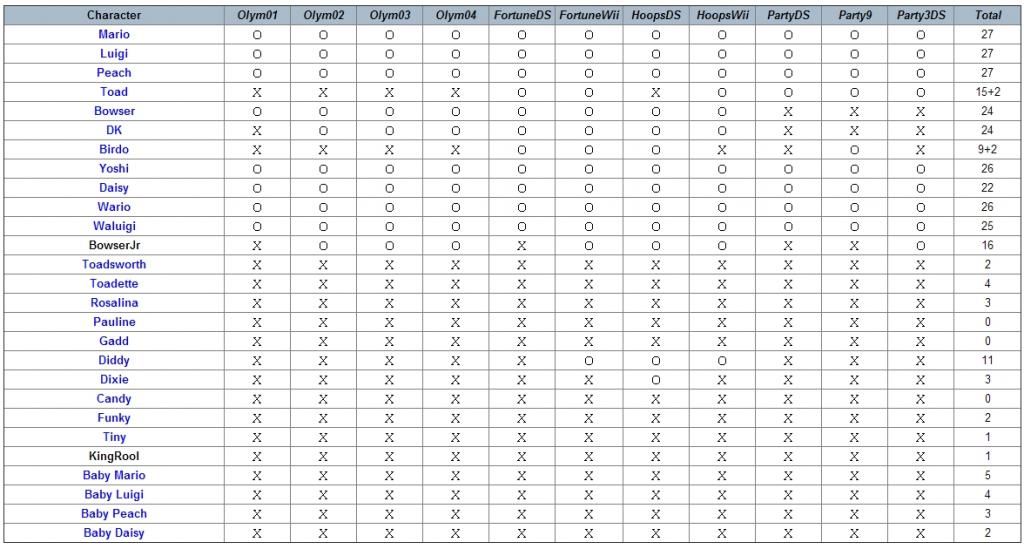 The list contain those titles from birth of Gamecube to end of DS, because some characters became really fixed and enlisted since this era
* Party is excluded owing to fixed method by adding new player until 8th
* Yakuman for not really multiplayer game to choose all characters
* Question marks appear in football games for species problem
To compare the numbers for each player:
27: Mario, Luigi, Peach
25: Yoshi, Wario, Waluigi
24: Waluigi, DK, Bowser
22~20: Daisy
15~10: Toad, Diddy, Bowser Jr.
9~5: Birdo
4~1: others
We can figure out some significant points:
☆babies and kongs have fewer appearances; but owing to identities and subseries, it can be accepted

☆Daisy is a major heroine....... and less appears than others like Wario bros?

☆Only Peach and Daisy are apparently recurring "heroines" who have more than 50% chances

☆Some duo partners like Dixie & Diddy, Birdo & Yoshi share same weight, but their apperance ratio are quite different.

☆As new players since GC era, Bowser Jr. and Diddy both have more 50% chances than other old characters

☆Zero exists......
In conclusion, some characters that didn't appear at early era of Mario history but becomes recurring, like Wario bros or Bowser Jr. Reversely for some other ones like Birdo, Toadette or Dixie were not (bad coincidence, they are "all" female and we're lack of that). Some like Toad and Toadette are defined to be "assistants", but since Toadsworth and Lakitu can do more referee jobs, they should be able to engage in more races since now.
Basically, the size for rosters are:
Karts: more than 10 in handheld console / more than 20 in family console
Tennis, Golf: between 10 and 20
Party: getting more than 10
Baseball: more than 10 captains / almost all characters playable
Football: more than 10 captains / several species for sidekicks (why?)
Olympics: 10 for one side
I'd conclude some reasonable rules fit in rosters to adjust:

☆All main characters that are not protagonists should take turns in different games for same times of appearance.

☆Ratio of female characters to male ones has to be one as far as possible.

☆If roster is small, species have to be avoided. Alternative identities like babies and dry guys are same.

☆Relatives characters get more partner appearances together, like the fading heroines.

☆Original characters from past spinoffs are authorized to appear again, whether they are nonplayable.

Ideal better roster followed from rules above may be listed below like:
must-have heros (100%): Mario, Luigi, Peach, Daisy, Bowser

optional must-have (for assistant or not, 80%): Toad-Toadette, DK-Candy

secondary, take turns in limited roster (70%) : Yoshi-Birdo, Wario, Waluigi, Bowser Jr, Diddy-Dixie

third-class if spaces up to 20 (50%): Pauline, Tiny, Funky, Mona, Rosalina

latter choices (30%): babies, species etc
new character
: most games can spare at least a new character from the newest main game or subseries.
* "-" = bound
I think it's impossible for all characters always recurring unless Nintendo release 20 spaces every time so nobody comes to naught. But when rosters are limited, there must be someone leaving to show fairness, or it would lead to a game that nobody wants to buy. Hope we can find Nintendo improves in the next roster like Kart 3DS.