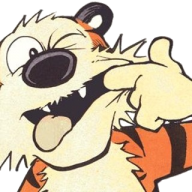 Tucayo
Retired Wiki Staff
Former 'Shroom Staff
Hi! If you are surprised to see me, then you should read last issue's Director Notes so you know what's going on. Or you can simply continue reading... I'll be hosting The 'Shroom Werewolf, part of the Issue L celebrations, so yeah, sign up.

Rules:
1.- Werewolf is a strategy game, where alliances may be created, and people may be betrayed, please don't take anything personal, it is only a game.
2.-The Objective is to kill all the werewolves or the innocents, depending who you are. The game is divided into 2 phases, Day and Night. In the day, votes may be casted, by using the following format:
Where X is obviously the name of who you want to kill. You may change your vote by doing this:
At the end of the day, votes are counted, and whoever has the most votes is killed.
Days will last 48 hours, night will end immediately after day ends.
Kinda like it worked on Stooby's first game, IIRC. To explain this further, day lasts 48 hours and the night doesn't last anything. So you have to send ALL your night commands DURING THE DAY PHASE. K? Just send me a PM saying who you want to kill, or saying you want to use your power. You must send this in a list format, something like
*1- X
*2- Y
*3- Z
*4- A
So in the case X is killed before, you will kill Y instead of losing your kill.
At the end of day, voting results are announced and night starts, then it ends as soon as it started and it is day again. And all over again.
3.-You may roleclaim (AKA say what your role is), but you can't directly quote your role PM, or any other game PM. Doing so will result in disqualification.
4.- If you want to play, you have to post in this thread your nick in
bold
letters.
5.- If you are inactive, you will be modkilled.
6.- When you are dead, post in the Lounge thread (here), when you are alive, post in the game thread. If you don't do that you'll awaken my rage.
7.- Phases will last 48 hours, as I said, and will likely end at some point during the night.
Be patient.
8.- No players can enter the game after it started
9.- There is no fool or Drunk
10.- If you change your name, and try not to do so, you are responsible for letting EVERYONE know. If I don't know you changed it probably something bad will happen to you.
11.- I am not playing, do not waste your time trying to kill me
12.- I am the host, what I say is what is done.
13.- I have nothing against bad players, talking about skills. But if you are a bad loser, please restrain from signing up and ruining the game
Any questions, feel free to post them or PM them to me. Game will start on the 21st.
Sign-ups
1. Stooby
2. Gamefreak (adiosToreador)
3. MG1 (Dustex)
4. SG27
5. Quizmo (Derpy Hooves)
6. SMB (USA)
7. Smasher (turntechGodhead)
8. turb (terminallyCapricious)
9. Ralphfan (Brick Tamland)
10. Garlic Man (Cave Johnson)
11. MrConcreteDonkey (Clover)
12. New Super Mario (Ice Cream Cone)
13. Yoshiwaker (gallowsCalibrator)
14. PaperYoshi (X&Y)
15. BMB (Major Bloops)
16. FireKirby (ectoBiologist)
17. Peachy
18. Xzealia Exdementia
19. Gigaremo
20. Villain
21. X something
22. Zero777 (Ryōga Senba)
23. Mijzelffan
There is no limit